Landis+Gyr ZMD100AR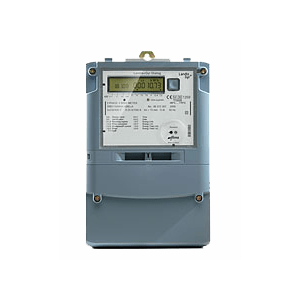 Comprehensive functionality for households and small businesses
Customized communication, expanded memory capacity and integrated clock: the ZMD100AR from Landis+Gyr was designed for situations with a broad range of requirements. Expanded anti-tampering features offer the energy provider more protection for its revenues.
The use of an internal memory allows comprehensive parametrisation with the MAP software from Landis+Gyr – an important prerequisite for comparing values from different invoicing periods. A simple event register traces any manipulation attempts back to their source. The eight tariff registers and eight total registers increase the energy supplier's flexibility when it comes to define customer-oriented market offers.
DLMS – communication for today and the future
The ZMD100AR ensures the connection to a remote reading system through multiple options: parameterisation allows the serial connection to be defined as a CS or an S0 interface. The optional M-Bus connection covers connections to larger and heterogeneous systems. Both IEC-62056-1 and DLMS protocols are supported.
Economic viability and long life span
The limited impedance means the area network has a light burden – the results are limited costs and a long life span. The installation at the metering point is easy to perform and is supported by active routines. Manipulation attempts are recognised and registered by both hardware and software tools. Access to the service and parameterization functions uses the identical MAP software in all meters from Landis+Gyr. In short: the ZMD100AR from Landis+Gyr is the first choice when high economic viability and high functionality are required at the same time.
Fonctions
IEC communication protocol / DLMS (automatic switching)
S0, CS or M-Bus interface
Optional 1 or 2 freely parametrizable outlets
Simultaneous communication over optical and electrical interfaces
Performance register with up to 35 previous values
External tariff control through four inputs or internal switch clock
Recognition of fraud and theft with event memory
Direct connection 3-phase, also applicable in 1- and 2-phase environments
Multiple sealing
Environmentally friendly disposal
Variantes
Accuracy Class 1 (110)
Accuracy Class 2 (120)
Standards: DIN or British Standard
Downloads