Landis+Gyr E230 Residential Light Commercial Credit Meter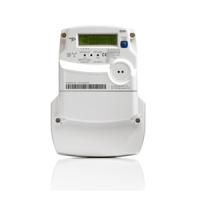 Comprehensive functionality for households and small businesses
The E230 is a standalone residential, light commercial credit meter designed to meet a various range of customer needs across a diverse wide ranging markets. With a reputation for high quality, Landis+Gyr has created a cost effective electricity meter for residential and light commercial applications that provides an extensive variety of features making it suitable for many installation purposes.
This cost effective metering solution can reduces total cost of ownership and management costs through enhanced functions and high quality design:
Multiple measurement channels with full four quadrant energy measurement technology
Improve customer services with advanced billing and load profiles
Reduced theft and losses due to maximum security features
Easy installation and trouble free diagnostic solution
Large LCD displaying information clearly for accurate meter reading
Communications options for AMR and data acquisition
Highlights
The E230 is an integrated, direct connected meter which can record active and reactive energy consumption primarily in three phase four wire networks and provides up to six tariffs. The meter can operate in four-wire networks in one, two or three phase configurations as well as three-wire networks. The meter conforms to IEC 62053, EN 50670 (MID) in its mechanical specification and is suited to installation in any situation that also meets these standards.
Electronics
Active and reactive measurement
Accuracy up to Cl 1 resp. Cl B (MID) [active energy] and Cl 2 [reactive energy]
Wide range measurement from starting current to maximum current
Up to 6 rates possible
Large liquid crystal display with max. 8 digits for the value and high resolution
Buttons for display control, MD reset, billing resetting and advance
Optical and electrical interfaces
Optical test outputs
Fonctions
Installation support
Anti tampering package
Downloads

Landis+Gyr E230 Brochure